Noah Official Trailer #1 (2014) - Russell Crowe, Emma Watson Movie HD
MOVIE NEWS
First Trailer for Darren Aronofsky's 'Noah' Looks Like a Gigantic Epic for Russell Crowe
With
Thor: The Dark World
fresh in our minds, it's difficult to estrange from the similarities in the first trailer for
Darren Aronofsky's
Noah
.
We close in on a long-haired, finely chiseled Australian film icon, mid-scene as a mythical figure lamenting the impending global annihilation at the hands of the all-powerful being closest to him. "He's going to destroy the world," says Russell Crowemsworth. But even if the Marvel sequel hadn't just released, we might find this introductory look at the director's Black Swan follow-up to feel just a little too... grand.
What the Biblical tale of Noah's Ark has, intrinsically, is an epic nature: The end of days. The wrath of God. A global flood. A literal boatload of wild animals.
And more than any of this in launching Noah to grandeur is the fact that so many of us grew up reveling in its majesty.
Through religious schooling or PBS specials, we learned as children that Noah's story was one of the most amazing ever told. And without much cinematic competition for the subject matter, it's not like Aronofsky is working against the tide. With proper visual effects, a Noah movie would feel just as "grand" as we might want it to. That's why we hope that this new trailer is downplaying the element most necessary to make this feature work: the intimacy.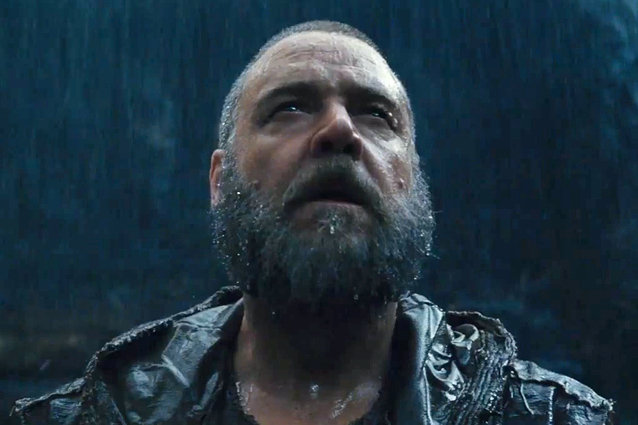 Joblomovienetwork/YouTube
With a story so inherently "big," it would pay for Aronofsky to hone in on the small. The personal conquests of Noah and his family, the torments that lie deeper than the crashing waves. Aronofsky is a filmmaker whose worlds feel gigantic, but whose characters are always sharp and vivid. But
Crowe
feels buried beneath everything else in this trailer, with his wife and children huddled beside him.
Naturally, the first trailer for a movie like Noah is going to have to opt for the "big." We can't spend our inceptive minutes watching Crowe play All Is Lost (with a much bigger boat) — we need confidence in Aronofsky's ability to get what is arguably the Bible's most famous tale down pat. But we know he'll do the "big" stuff right. Hopefully the next look at this movie will show that he's handling the small stuff just as well.